Main Blog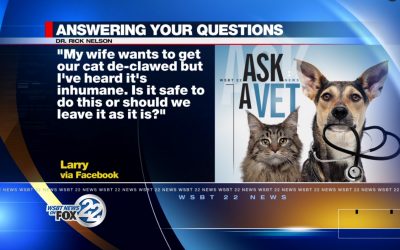 Interviewer; Our next question is from Larry, he writes, "My wife wants to get our cat declawed but I heard it's inhumane", is it safe to do this or should we leave it as it is?
Dr Nelson; Big discussion I'll give you a kind of just a thumbprint of both sides some people consider it amputation & you'll hear all kinds of extreme descriptions of it that are completely wrong & then there are other people that say ahh it's just like trimming their nails, that's wrong too.
Not every cat should be declawed but a lot of them have to be because they're indoor cats & the older people don't want to be scratched & the don't want their house ruined & things like this. I'm Just gonna say discuss it with your veterinarian, he or she is the expert in it. There is some discomfort but it's fairly brief, but not every cat, unless they're having a problem should be declawed either.
Interviewer; Especially if your cat goes outside at all, it takes away some defenses.
Dr Nelson; Even declawed cats can climb trees & things like this but does take away on their defense, just don't let them outside.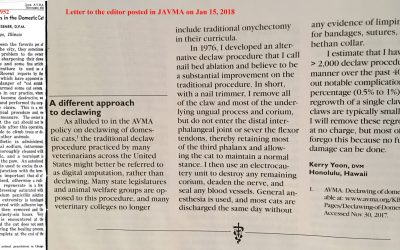 "Because the method described by Dr. Yoon preserves the flexor process of the third phalanx and the attachment of the flexor tendons to this process, it may, theoretically, provide some benefits over procedures that involve removal of the third phalanx in its entirety. However, outcomes of this procedure, particularly long-term outcomes, still need to be studied. Comment by Kurt J. Matushek, DVM, Editor-in-Chief of the Journal of the American Veterinary Medical Association (JAVMA)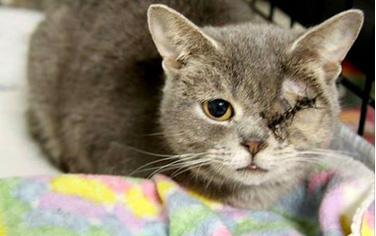 These are screenshots of posts by the Director of Lake Haven Rescue on her rescue's facebook page on November 20, 2017. As many of you have heard, Lake Haven Rescue, in the town of Newaygo, Michigan, is declawing most of the kittens and younger cats that they...
CATurday Veterinary Heroes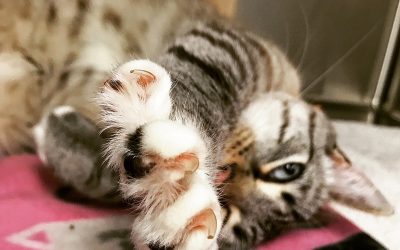 Dear City, So my story goes like this… In 2015, I declined to perform a declaw on a 7 year old cat. The husband and wife wanted me to declaw their cat who they were afraid would jump into their newborn babies crib and scratch it.  She was still pregnant and they...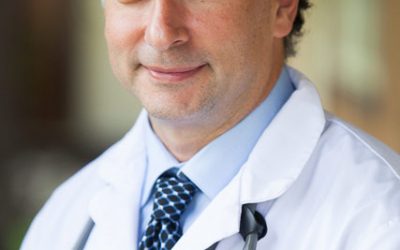 My decision to stop doing this surgery now is that other veterinarians will hopefully follow the new position statement from CVMA and stop declawing cats. As fewer and fewer veterinarians perform this procedure there is less of a concern that clients will go somewhere else and less concern that the surgery is not being done properly with the appropriate pain control.
The demand for this procedure comes from the public, and veterinarians should not be the only ones at fault . Cat owners need to stop asking us to do this procedure and we need say no and provide alternatives.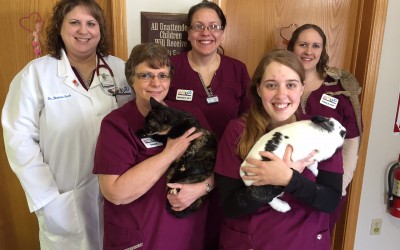 I'm proud to say I no longer declaw
Sunday Supporters and Spokescats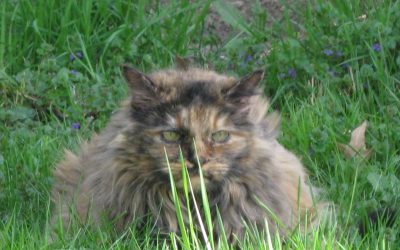 The vet never mentioned the real reason for the kitten's behavior, which was the horrible pain in her toes from that declaw surgery. He drew up the euthanasia solution and euthanized that sweet declawed kitten in a matter of minutes.
I cried for that kitten for weeks afterwards. I felt the pain, fear, and suffering every kitten and cat endured because of those declaw surgeries for the whole of my career.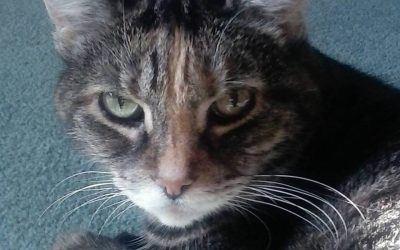 Here is a sad story about a cat owner that was deceived by her declawing AVMA and AAFP veterinarian at a cat clinic in Central Michigan in 1999. My researchers looked into how this vet is currently addressing declawing and they found this. Their receptionist says that...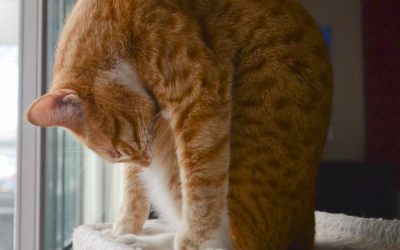 He was an orange and white splotched kitty with a huge personality matched only by his massive purr. A love bug to everyone who came in and playful. He tolerated having ears and tail tugged by special needs children that came to visit and would purr and snuggle despite it all. He understood they just didn't understand and that they just wanted love the same as he did. He was the heart of the shelter and the staff and we all had a special place for Magic.