October 13, 2017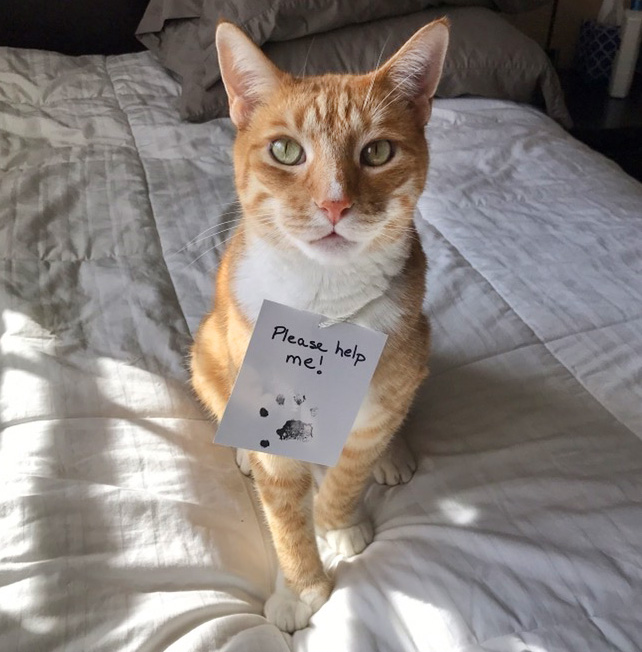 I wanted to share something with all of you that's been heavy on my mind and I'm very confused. I need your help.
One of the things I do is help get cat rescues, donors, nonprofits, and shelters to support our important anti-declaw bills. I have lots of conversations with their management and I give them factual info and answer their questions etc, so they have all the facts to make a sound decision.
Sometimes I get to have great dialogues with wonderful organizations who understand that cat declawing is animal cruelty and animal abuse, and they naturally and logically support the bill.
But sometimes I have dialogues with these organizations who send mixed messages that I just can't understand (even after asking some of my smart friends 😸).
St. Hubert's Animal Welfare Center (in Madison, NJ with other locations throughout northern NJ) is a state leader in animal welfare; they do tremendous work for cats and dogs and they're really progressive with a lot of great programs. They also have a dream animal shelter facility. Many declawed cats have been adopted from St. Hubert's over the years.
I started having a dialogue with the St. Hubert's CEO, Heather Cammisa, starting in February of this year 2017, about their support for the anti-declawing bill in NJ.
I was sad to hear in my phone call with Heather in February that St. Hubert's does NOT support the bill that passed the NJ State Assembly in 2016. Instead, St. Huberts wanted to send the bill sponsors (legislators) two amendments to be made to the bill.
Now some of you who are new to bills and lawmaking may not know that one sneaky way to stop a bill is to make amendments to it. Basically, amendments could gut the bill.  You've heard of loopholes so big that you could drive a truck through them, right? Think "amendments"…
Anyway, I don't want to believe that St. Huberts — being such a leader in animal welfare — would do such a thing, so, of course, I asked what those amendments were, before jumping to any conclusions.
I'm still waiting to hear back from Heather as to what the two amendments are.  I received an email from her co-worker last week that said this: "St. Hubert's is opposed to the surgical declawing of cats except in rare circumstances.  We've advised though that we cannot support the bill in its current form and have written to the sponsors with our suggestions."
Now I'm getting really concerned what those amendments are. We know the NJVMA is fighting this bill, by hiring the state's top lobbying firm, at great expense. I know that a lot of NJ shelters, including St. Huberts, use NJVMA vets or have NJVMA vets on their board of directors.
I'm really happy that the St. Hubert's CEO is engaging in this thoughtful and important dialogue with me, and I REALLY hope that our discussion will lead to St. Hubert's supporting the bill without exceptions for human health issues.
But I'm confused by their proposed amendments. My question for Heather is, if the bill is not amended to allow declawing for human health reasons, will St. Hubert's not support the bill?
Maybe all of you can help me inspire St. Hubert's to support this important cat protection bill (without any bad amendments), the way that North Shore Animal League did for the bill in NY, without any amendments:
Please let St. Hubert's know how much you appreciate all they've done to re-home so many cats and kittens, as well as TNR programs for community cats, and we know that they are against cat declawing St. Hubert's Declawing Position/Policy , so why won't they support the anti-declaw bill that was passed by the NJ State Full Assembly?
Please go to their Facebook page St. Hubert's Facebook Page and their other social media pages and respectfully ask them if they will support the bill without the human health amendment and let them know you will give them a 5 star review if they do! Also please email them at info@sthuberts.org  We desperately need their support!
St. Huberts is responding to many of your comments by saying they can't support the bill as it is.
The bill was created and written very carefully for a reason, to protect the cats and not weaken anti-declawing laws elsewhere. Ask them, why are they trying to make changes to this bill, and what are those changes that they want?
St. Hubert's Animal Welfare Center is such a leader, progressive and transparent, with clear position statements. So why the secrecy about trying to change the declaw bill? If they are good, legitimate changes, why not be open and transparent about them? We are all on the same side, against declawing, right?
Also, you can write a donation check to St. Huberts and say that they can only cash it when they support this bill without a human health amendment!

I can't do this without your help! If you get an answer please send it to citythekitty@gmail.com ASAP! 
The mission statement that St. Huberts.org has on their website is, "St. Hubert's Animal Welfare Center is dedicated to the humane treatment of animals. We believe in and provide services that support the human-animal bond and seek to foster an environment in which people respect all living creatures."
Let's respectfully remind them that there is no room for declawing in their mission statement!
Thank you,
Love,
City
___________________________________________________________________________
Here is a story that I did about how cats should NOT be declawed for immune compromised reasons. Declawing is NOT recommended for immune compromised people or people with thin skin or bleeding disorders
Please go to www.citythekitty.com and sign up to be a City the Kitty Crusader and help us end declawing once and for all!